Craft a shipping strategy as unique as your business
Unlock maximum flexibility with your shipping options at checkout using ShipperHQ's robust suite of built-in features and deliver on customer expectations.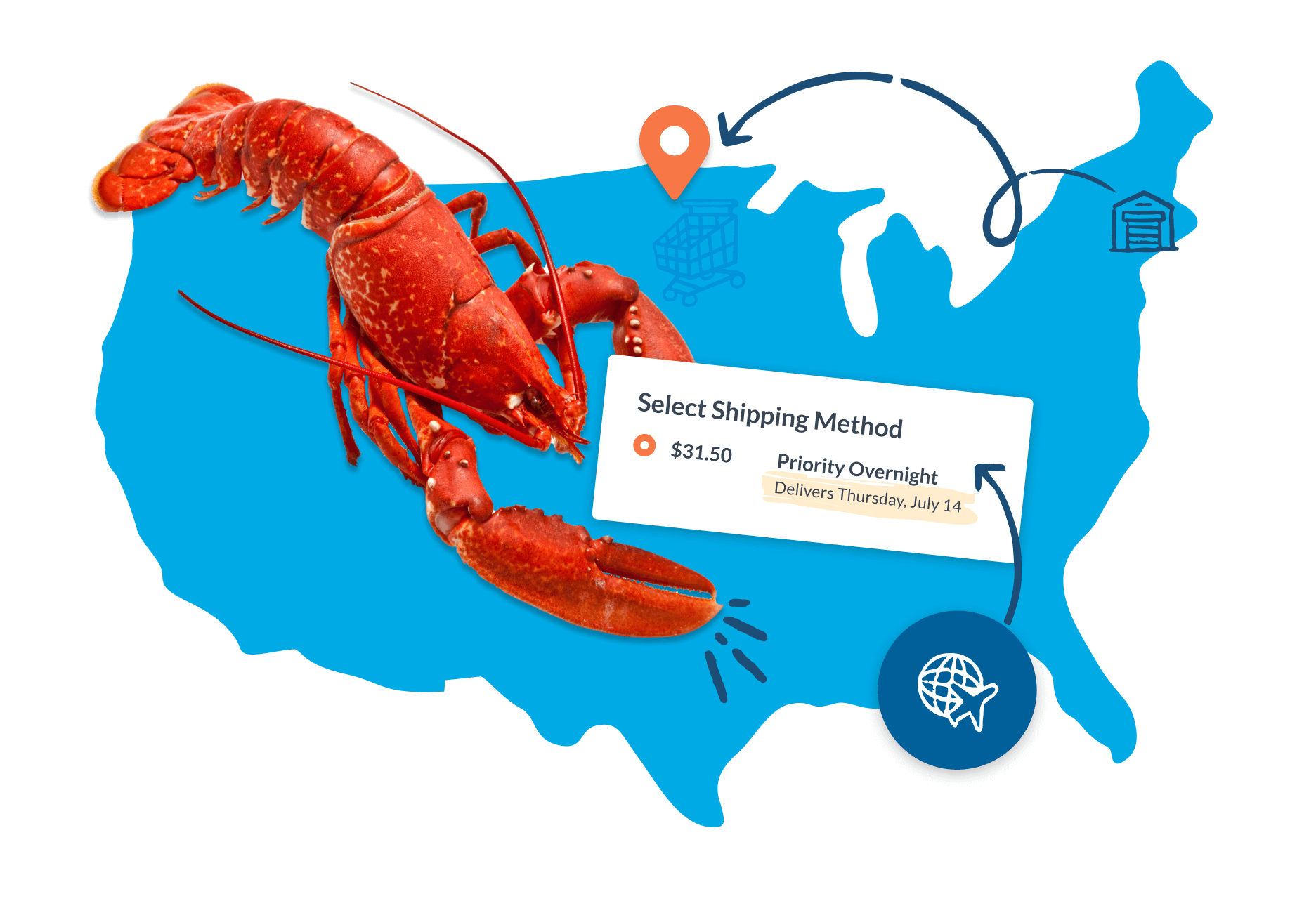 Shipping Rules
Curate your checkout options for any scenario
Shipping rules allow for maximum control of the rates and options you show in checkout. Easily manipulate live or custom rates or run promotional pricing—all based on the conditions you choose.
Set rules based on geographic zones, specific products, price, weight and more
Surcharge or discount your live and custom rates
Easily offer free shipping based on conditions you choose
Set promotions for a specific range of time
Restrict shipping options for specific goods or locations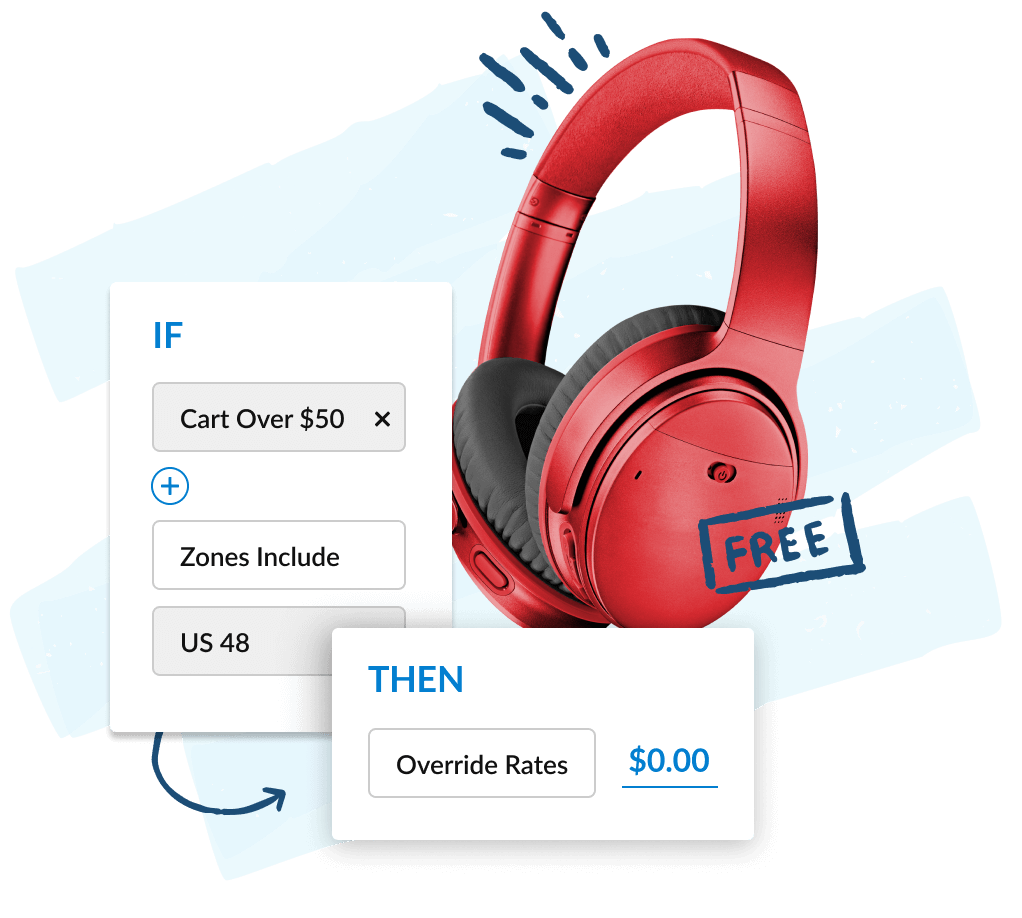 Shipping Insights
Connect your checkout with post-order fulfillment
With increased visibility into shipment data from checkout, you can see how ShipperHQ packed each order to get rates and save time and money replicating this at fulfillment.
Currently available for Adobe Commerce, Magento, Shopify, and BigCommerce (API only) on the Standard, Advanced and Enterprise plans.
Meet the delivery date shown to the customer at checkout with visible dispatch dates
Easily accessible shipping details about every order
Improve shipping margins with breakdown of carrier, method, packing, and shipping costs including any fees and LTL details.
Detailed overview of multi-origin order fulfillment, box information, packaging, and origins for total fulfillment and packing control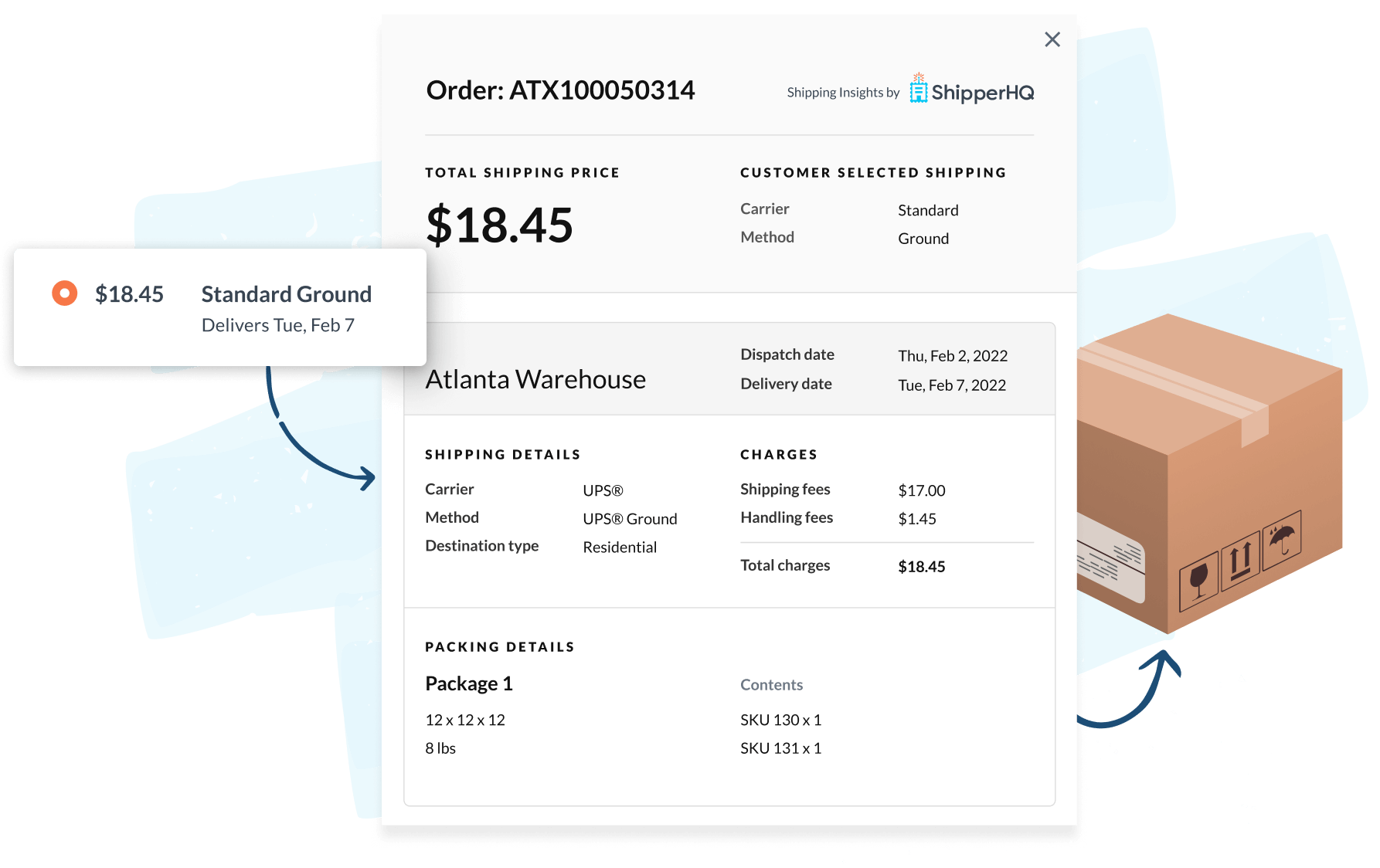 Delivery Date & Time
Total delivery transparency
Customers want to know when their order will arrive, and you want to be confident that you can deliver on the date you display. Have your cake and eat it too with ShipperHQ's enterprise-grade delivery date and time logic! Convert more carts and deliver a great customer experience.
Set blackout dates, holidays, and closures to improve delivery date accuracy
Use max times in transit to ensure you only offer options that will deliver in time for perishables
Set lead time and cutoff time by shipping origin, carrier, or groups of products
Let customers choose future delivery dates & times
(Available for Adobe Commerce, Magento and Zoey)
Delivery date & time capabilities are currently available for use with UPS, TForce Freight, Inc. (transit days only), USPS, FedEx, Canada Post or with your own custom rates.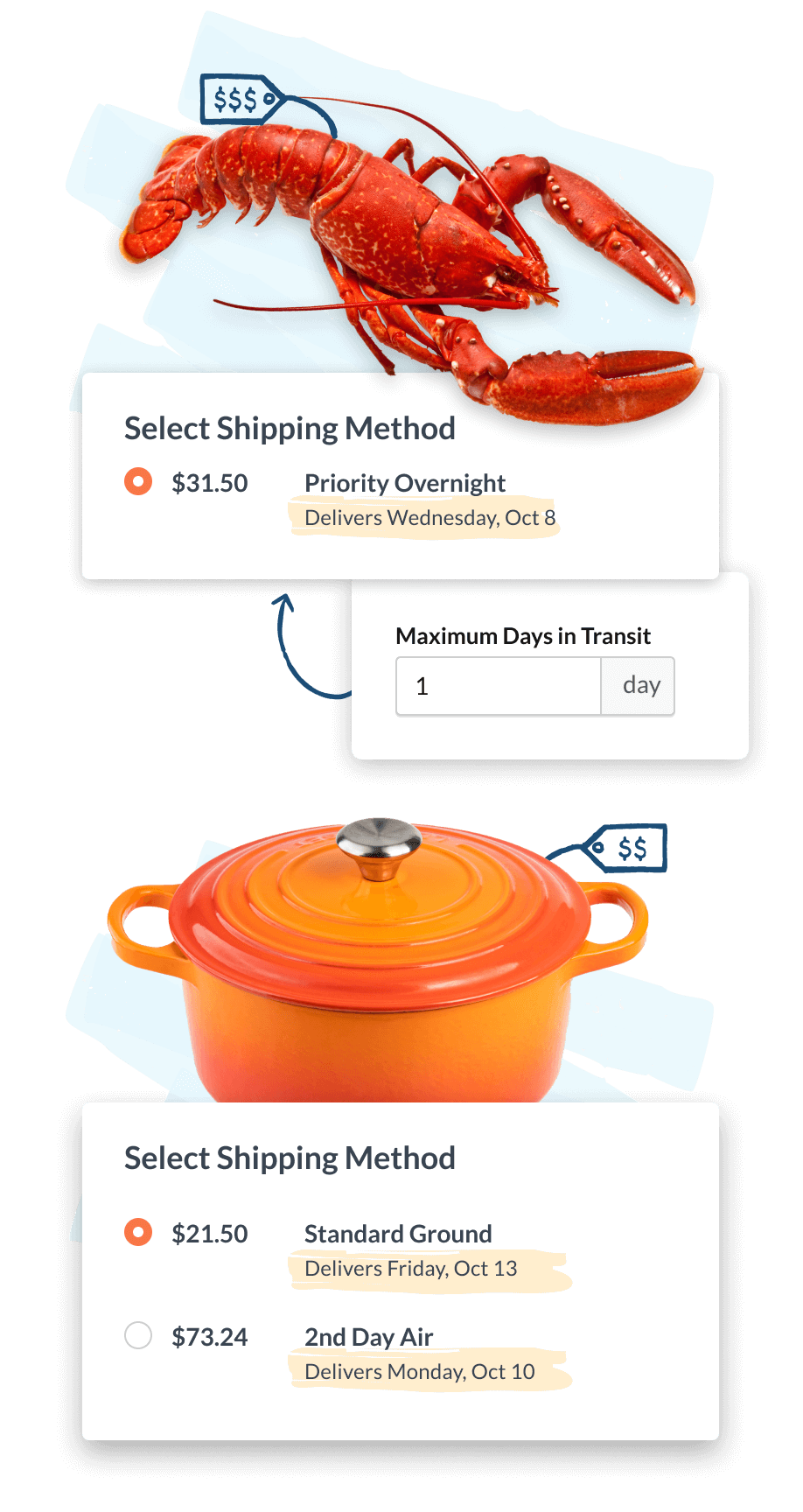 Dimensional Packing
Get rates that reflect how you actually ship
Automatically determine the best packing configuration for any combination of products in the cart. Combine with custom packing rules and calculate each cart cost-efficiently with no manual intervention.
Create packing rules to process specific products or groups differently based on unique conditions that you designate
Set different boxes for different carriers and products. Also, utilize USPS Flat Rate packages.
Supports multi-package products, as well as, shipping items separately
Add box and pallet packing weight and padding, as well as per-box surcharges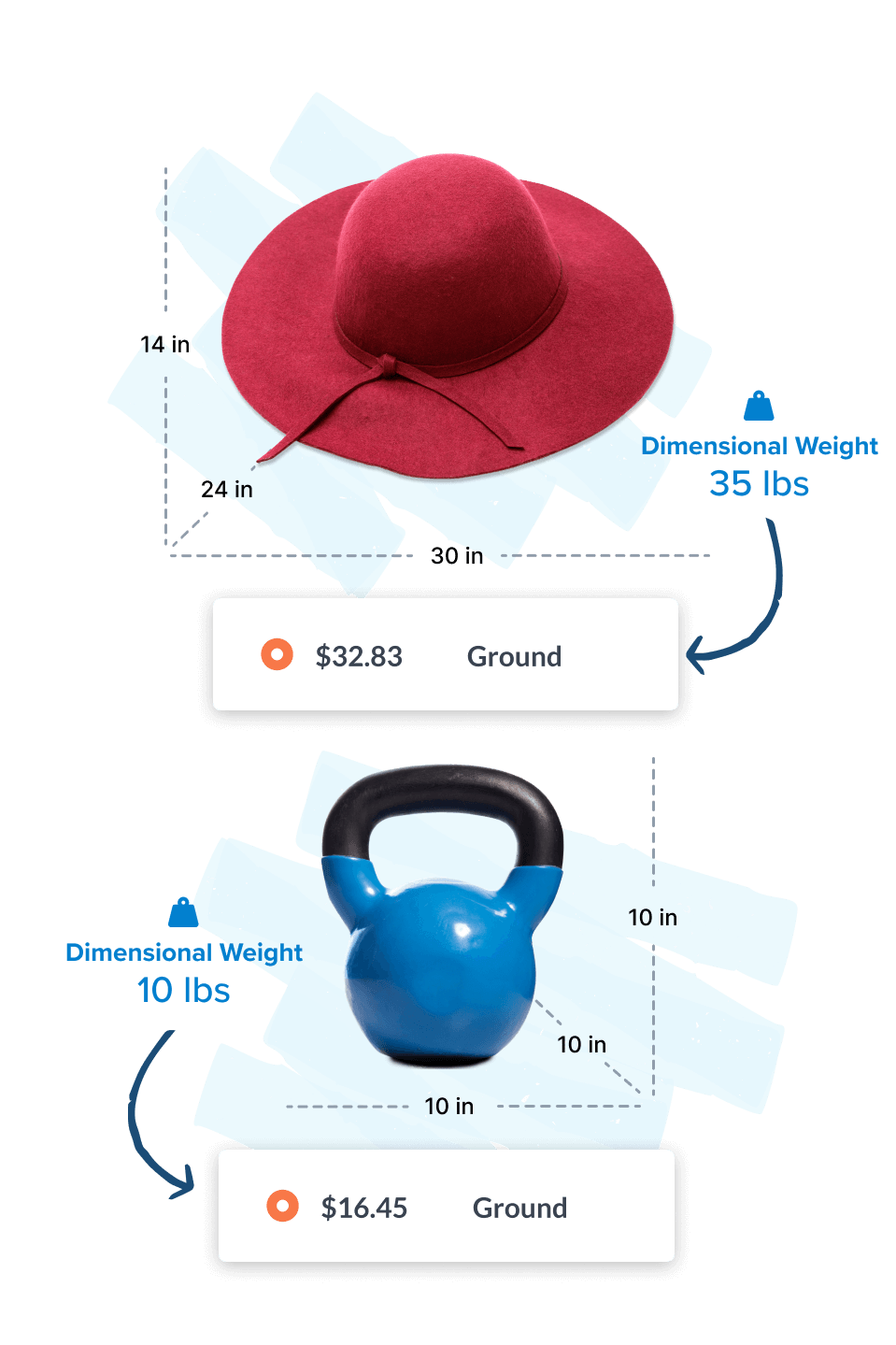 ShipperHQ's dimensional packing feature helped us define exactly how we are packing our oversized and bulky products. Now our rates are much more accurate. We don't have to worry about under or overcharging customers no matter where we ship, domestically or internationally.
In-Store Pickup
Deliver on convenience
Buy online pickup in store has increased 500% in the past two years!* Don't leave your customer's waiting. Offer them the convenience of local pickup at any of your retail locations or warehouses.
*Source: Digital Commerce 360
Display all pick up locations or limit them based on a maximum distance radius from the pickup location
Set expectations by displaying when items are available for pickup based on store hours
Offer granular control for shoppers by implementing pickup date and time range selection at checkout.
(Available for Adobe Commerce, Magento & Zoey with Delivery Date & Time Advanced Feature)
Take advantage of Google Maps API to display a map of your pickup location with store info at checkout.
(Available for Adobe Commerce and Magento)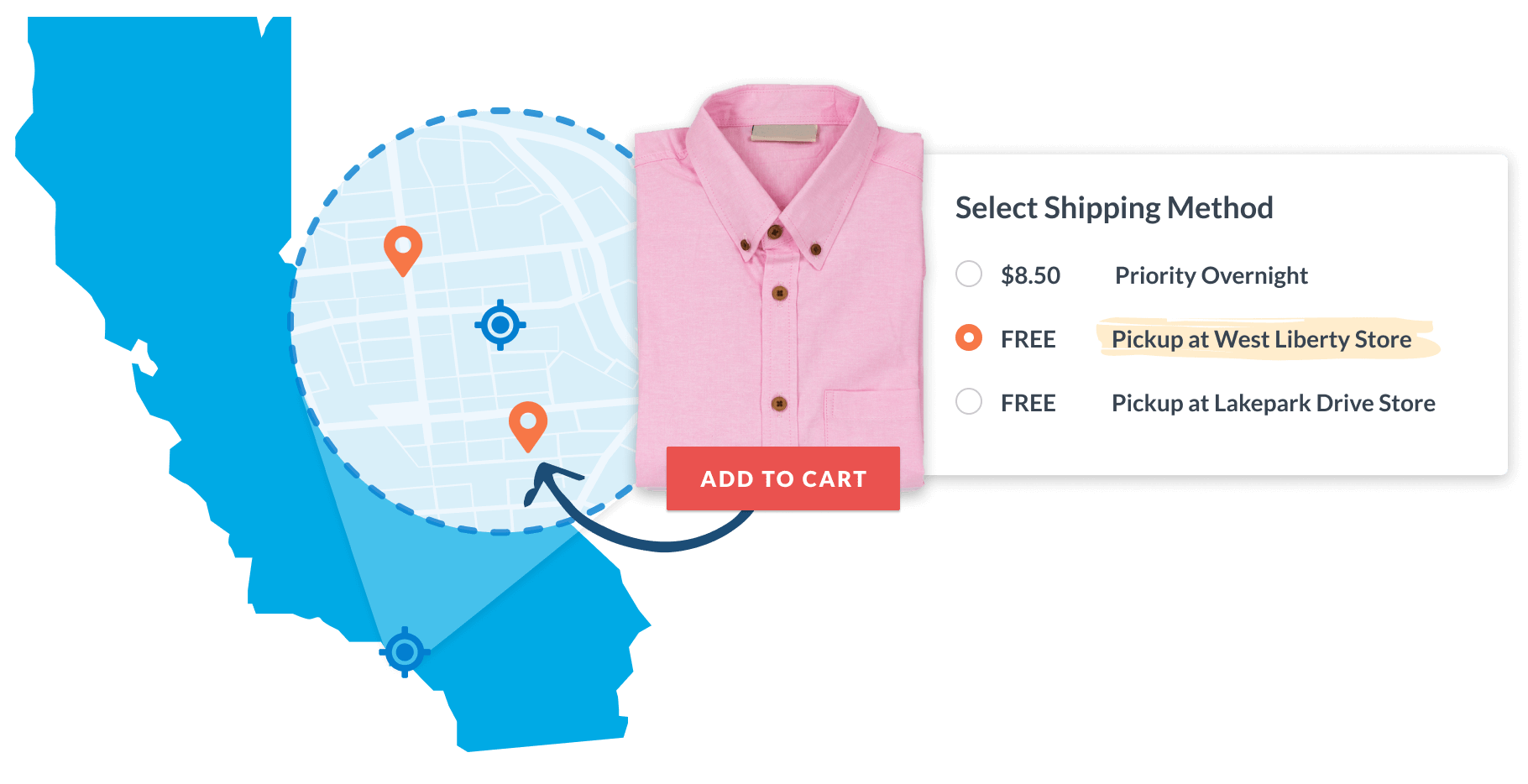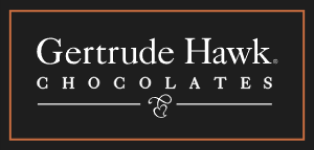 We were very thankful for the opportunity to get in-store pickup up and running so quickly. It allowed us to recover almost a third of our sales. We delighted our customers with the experience and made them very happy.
Multi-Origin Shipping
Automate rating from multiple warehouses
Multi-origin Shipping is essential for those who dropship directly from vendors or who have multiple distribution centers or warehouses from which they ship. Create a set of custom shipping rules that dictate where items ship from, how multiple shipments are handled, and more.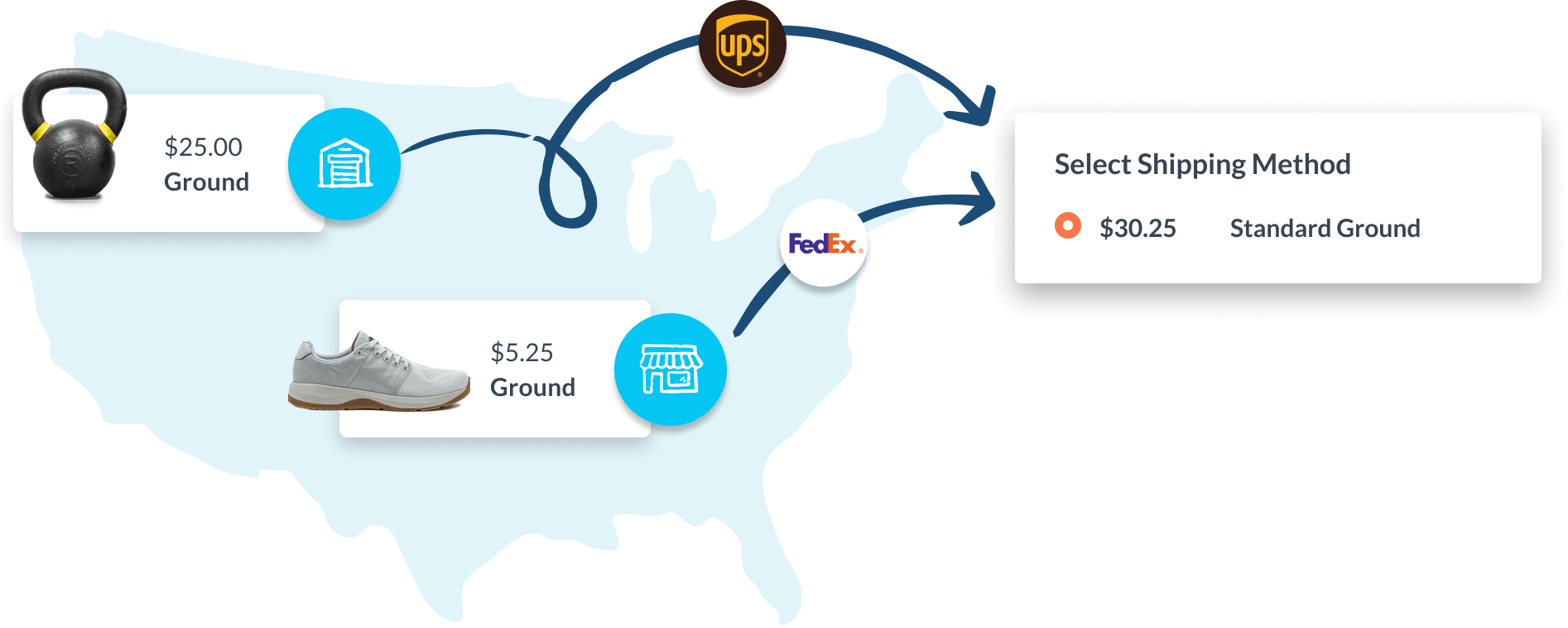 Calculate shipping from the nearest warehouse for each product, or analyze all products and consolidate for the fewest number of shipments
Assign different carriers for each shipping origin
Define service areas, surcharge, discount, or restrict shipping methods based on origin
Rate shipments from the origin nearest the customer if products are available from multiple origins
Make products available from one or many origins
Get rates for shipments from multiple origins and display a sum or separately by origin
(Available for Adobe Commerce and Magento)
LTL Freight
Move at the speed of small parcel
With instant LTL freight rates at checkout you can streamline shipping processes of heavy, oversized goods, all while keeping shipping margins in check.
Support for 30+ LTL carriers and third party logistics providers (3PL), See our full list of carriers
Assign freight classes to products or shipping groups to ensure accuracy in rating
Automatically pass along accessorial freight charges like liftgate, inside delivery & white glove service.
(Available for Adobe Commerce, Magento and Zoey)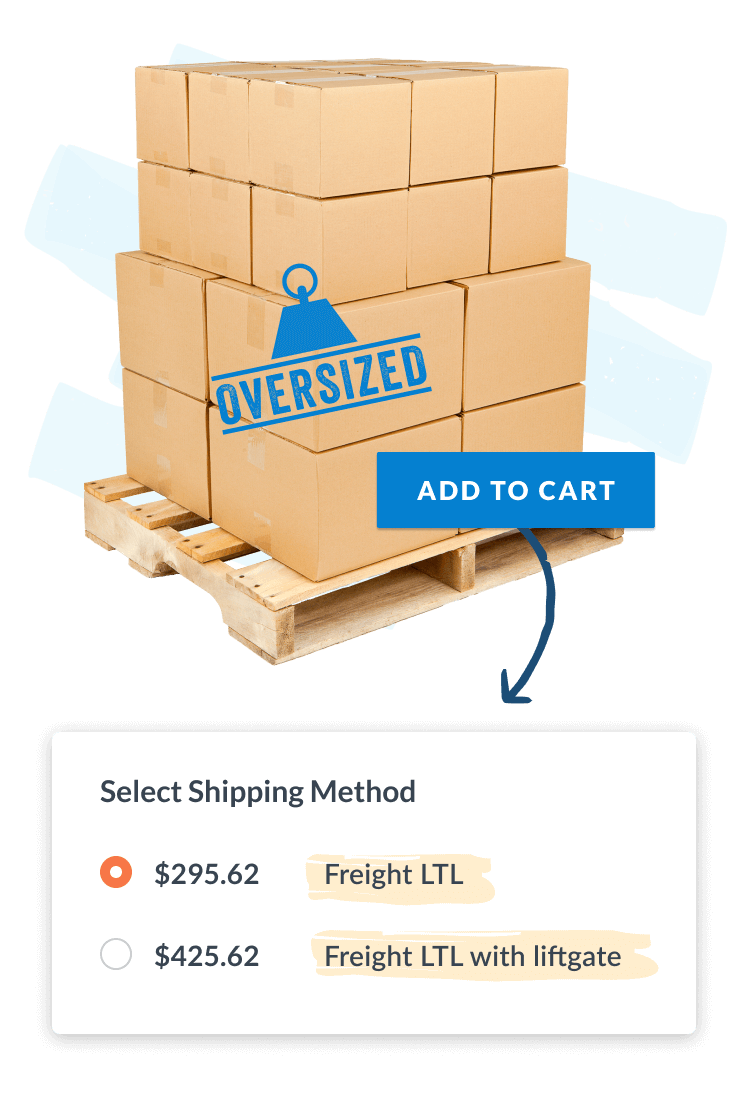 Sales of our heaviest products are up infinitely as we hadn't had a solution to offer LTL shipping to our customers prior to implementing ShipperHQ. We could not be happier with the performance or the ongoing support to help us offer the best shipping rates that we can.
Kevin Comerford
President, Mr. Shrinkwrap
Address Validation
The right fees for the right address type
Residential surcharges and liftgate fees for freight can add up quick. Protect your margins and sales with correct charges for residential and commercial shipments.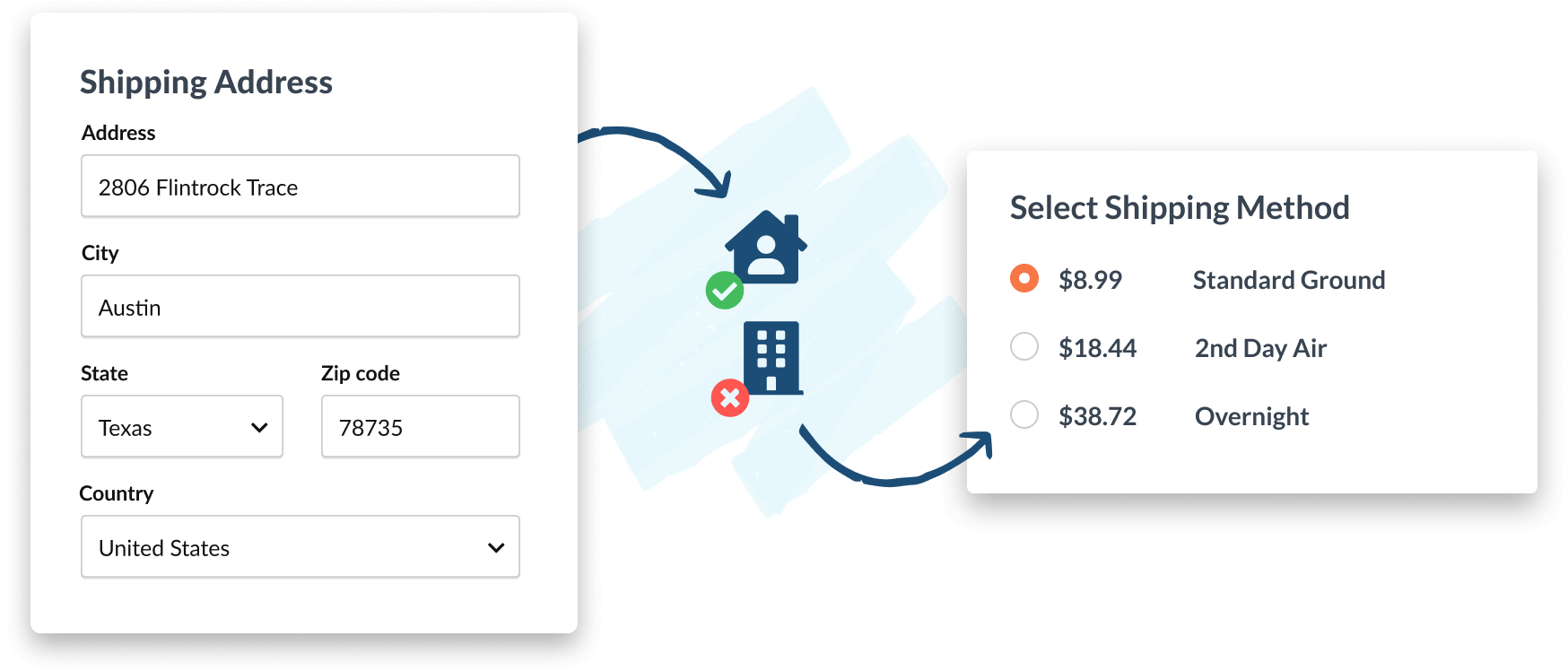 Address Validation features works with UPS or FedEx to validate US customers' addresses. As long as you have a UPS or FedEx account set up in ShipperHQ, Address Validation can be used for any carrier on your ShipperHQ account.
Backup Carrier Rates
Prepare your business to handle outages and never miss a sale
Set up Backup Carrier Rates as an automatic fallback for the rare circumstances of downtime for a live rate carrier.
Use an alternative live rate carrier, flat or table rates for your backup rates for a consistent checkout
Peace of mind as backup rates activate automatically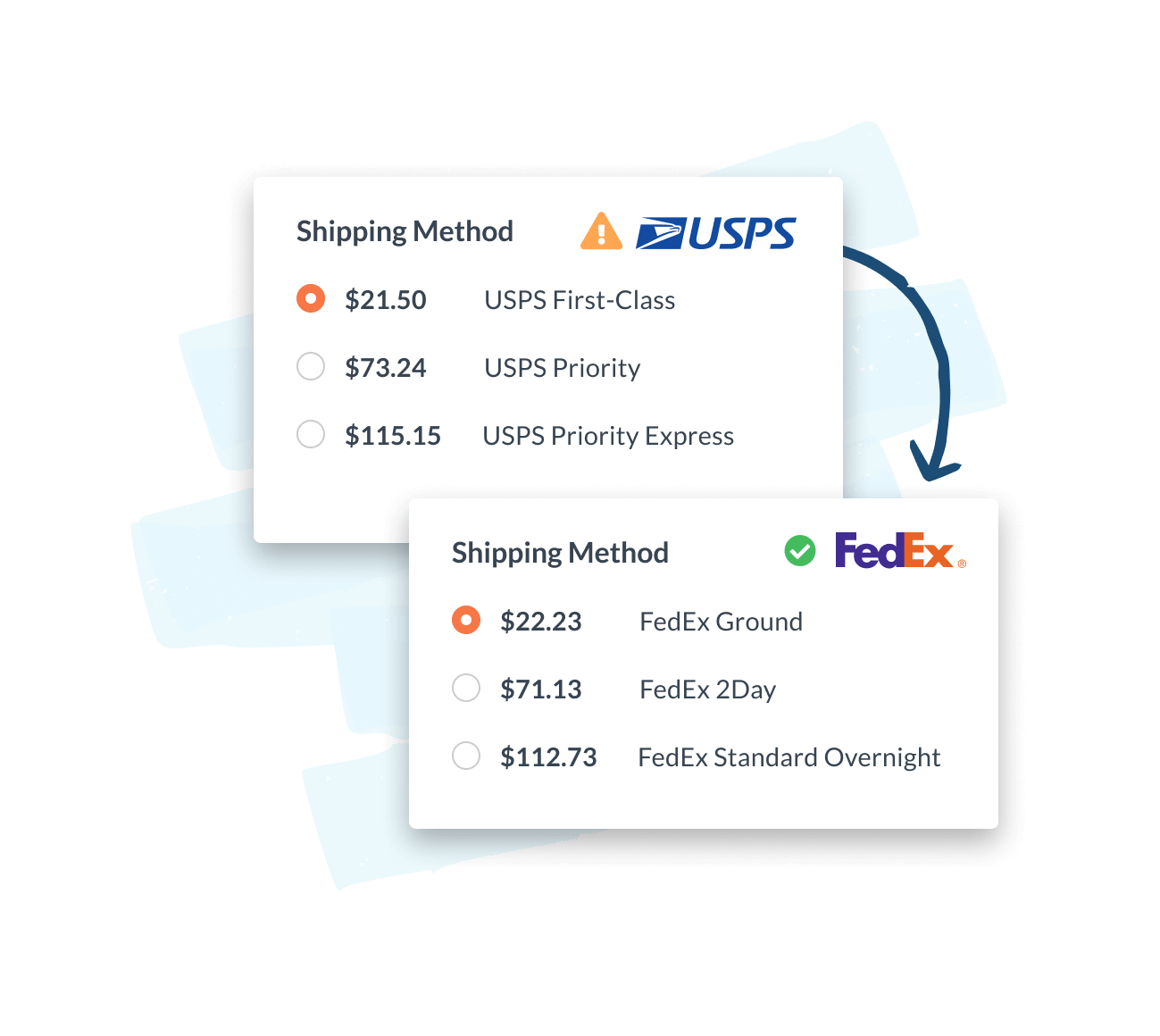 Rate Shopping
Simplify options and return the best rate
Compare rates between two or more shipping methods from two or more different carriers and display only the cheapest method to a customer. Choose the methods you would like to rate shop and merge them into one rate result showing the lowest rate returned. Reduce confusion at checkout and make shipping method selection faster and easier.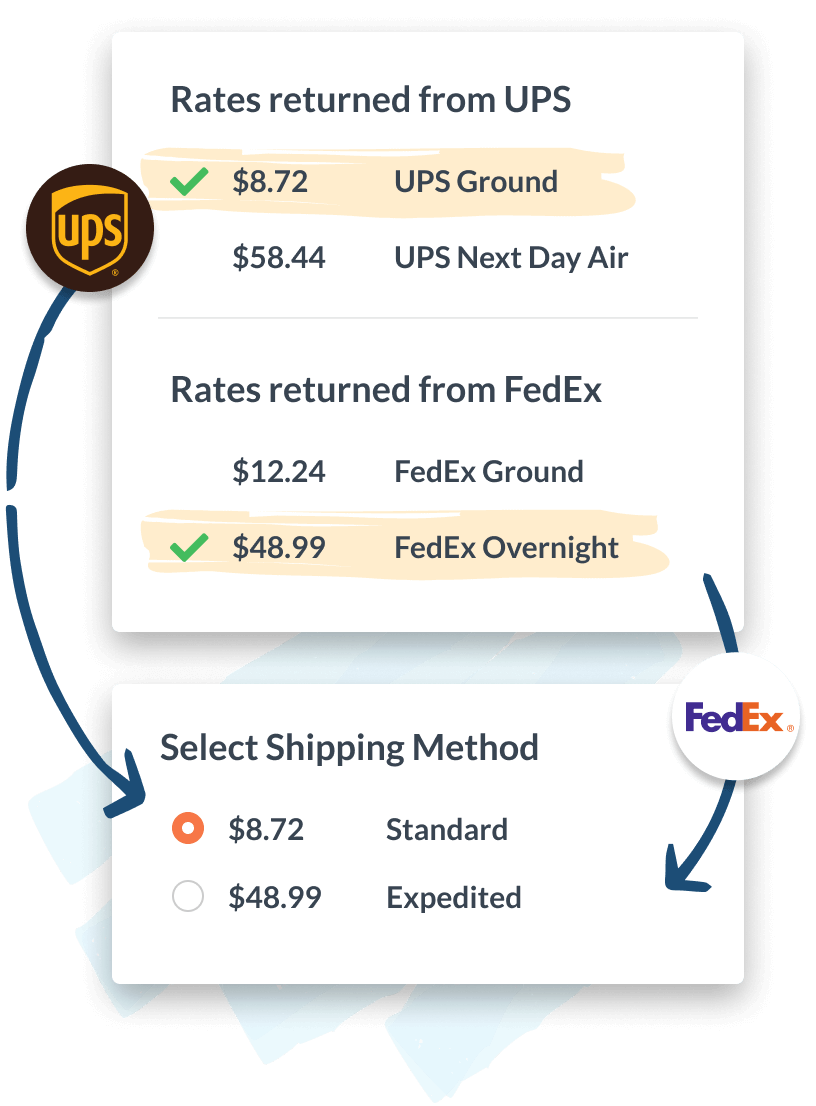 Product Page Shipping Calculator
Conquer cart abandonment before checkout
Leverage your existing shipping strategy to return delivery rates and dates tailored to every product, right on the product page.
Customizable display so customers can enter their zip code, state, and/or country and see the shipping rates and options for this product right on the product page
Works with your existing ShipperHQ configuration for other features like Shipping Rules and Delivery Date & Time to provide custom rates and dates for each product
Is themable and translatable to your site using Magento 2's native translation and theming capabilities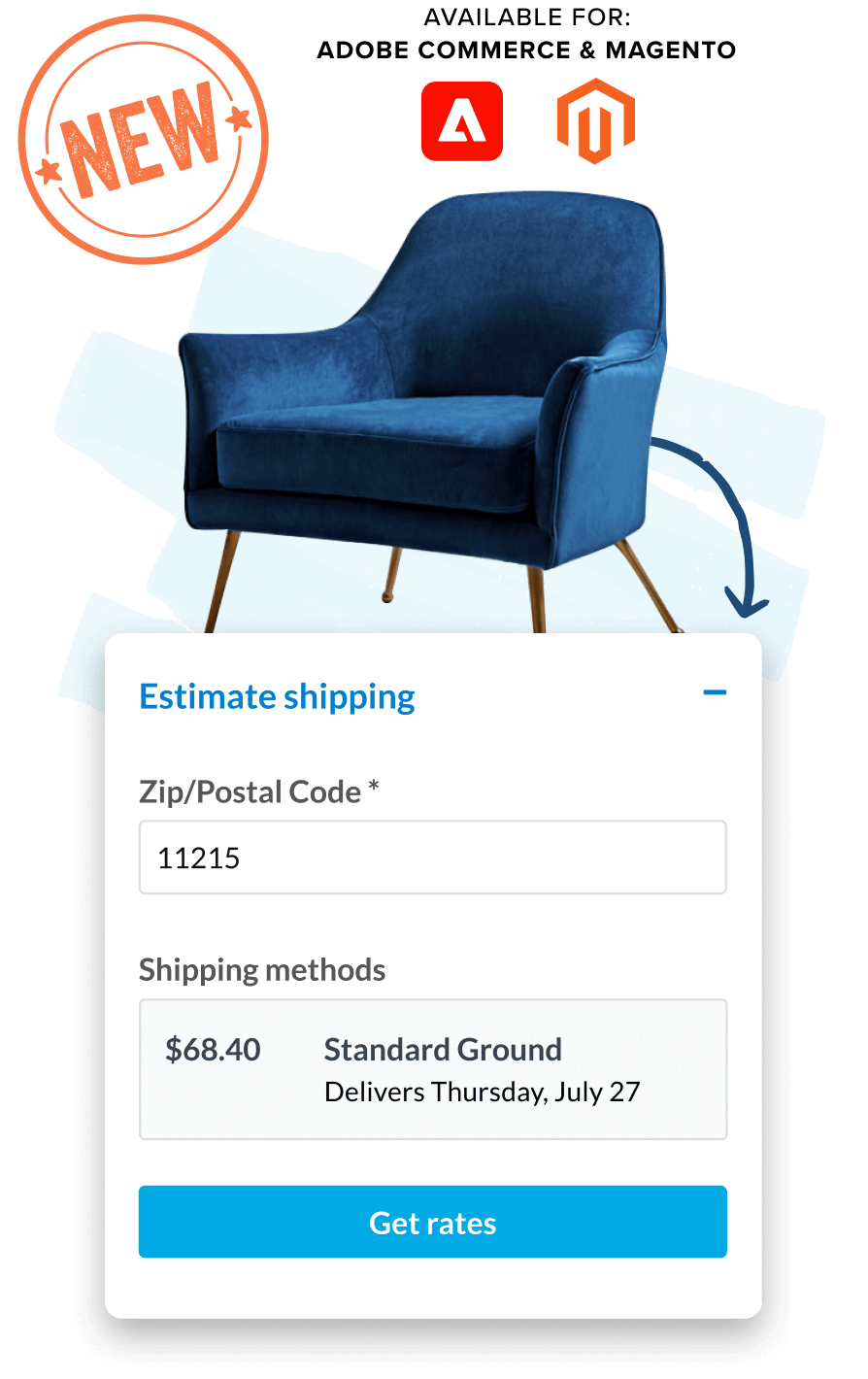 Enhanced Checkout
Supercharge your checkout
Turn casual browsers into loyal customers with a seamless and personalized buying experience. Empower shoppers with complete control over their delivery and shipping options through an intuitive UI that offers split shipping, mixed fulfillment, date and time slot selectors, and more.*
Allow customers to select their preferred delivery or pickup date and time
Display exact pickup locations via Google Maps with store hours and contact information
Show custom rates and dates for each item in an order based on their shipping origin and group
Access rich shipping and packing details after a customer places their order.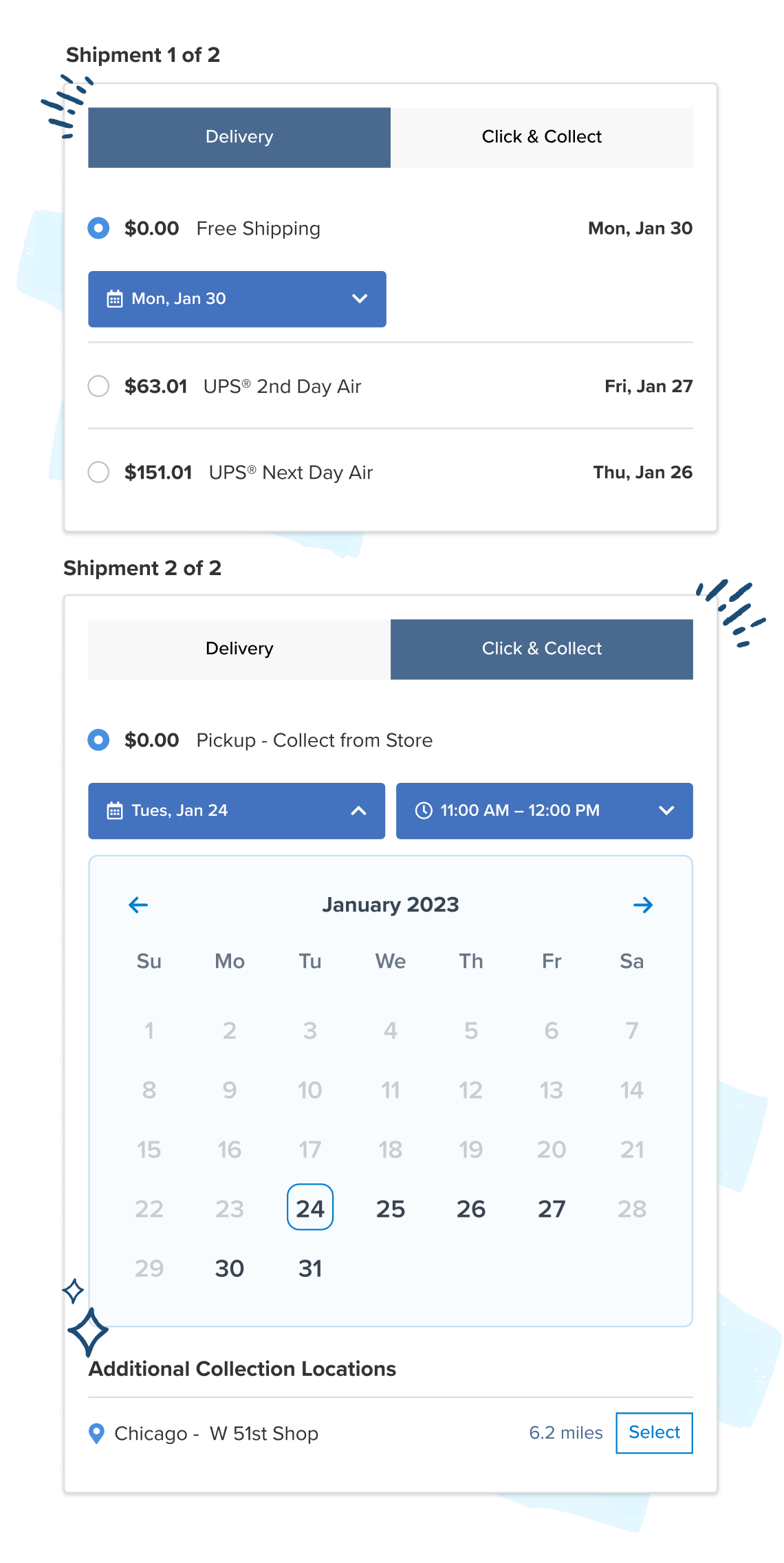 Explore
Solutions
Choose your platform